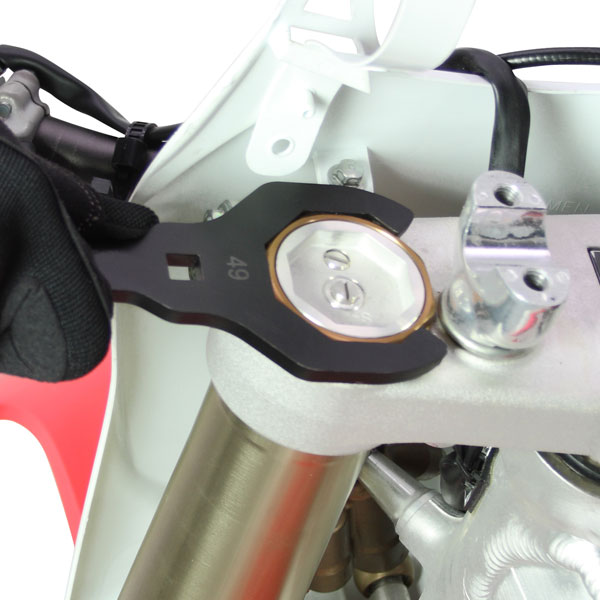 P300x FORK TOP CAP WRENCH
SPECIFICATIONS:
- Wrench for removing front fork cap.
- 2 wrench sizes available, 49 mm for KYB and 50 mm for SHOWA and 50 mm KTM WP front fork.
- Open wrench design for easy operation in small spaces.
- Opposite end of the wrench is rod stopper to hold piston rod when removing piston inner cartridge.
- Socket hole available for torque wrench.( Socket size is 9.5 sq = 3 / 8 inch )
- Made of durable steel, electro coating finish.
UN-P3004
UN-P3005
Material
Steel
Material
Steel
Wrench Size
KYB(49mm)
Wrench Size
SHOWA(50mm)
Length
215mm
Length
215mm
Weight
239 g - 251 g
Weight
239 g - 251 g
UN-P3003
Material
Steel
Wrench Size
WP(50mm)
Length
215mm
Weight
239 g - 251 g
Bike
Year
Front Frok
Part number
CRF450R
09-14
KYB(49mm)
UN-P3004
YZ125/250
06-22
YZ250F
06-22
YZ450F
06-22
YZ125X
17-22
YZ250X
16-22
YZ250FX
15-22
YZ450FX
16-22
WR250F
15-22
WR450F
13-22
KX250
20-22
KX250X
21-22
KX450F
06-14
RMZ250
16-22
EC250
18-20
EC300
18-20
XC250
18-20
XC300
18-20
ENDURO GP250
18-20
ENDURO GP300
18-20
125SC FACTORY
19-20
250SC FACTORY
19-20
300SC FACTORY
19-20
250SCF FACTORY
19-20
300SCF FACTORY
19-20
450SCF FACTORY
19-20
500SCF FACTORY
19-20
250SE FACTORY
19-22
300SE FACTORY
19-22
250SEF FACTORY
19-22
300SEF FACTORY
19-22
450SEF FACTORY
19-22
500SEF FACTORY
19-20
CRF250R
04-23
SHOWA(50mm)
UN-P3005
CRF450R
04-08
17-22
CRF250RX
19-23
CRF450RX
17-22
CRF250X
06-17
CRF450X
05-22
CRF450L
19-20
CRF450RL
21-22
KX250F
06-18
KX250
19
KX450F
15-18
KX450
19-22
KX450X
21-22
RM125
06-08
RM250
07-08
RMZ250
07-15
RMZ450
05-22
RMX450Z
10-17
DRZ400SM
05-17
125SX
07-23
WP(50mm)
UN-P3003
150SX
09-22
250SX
07-23
250SX-F
07-23
350SX-F
11-23
450SX-F
07-23
150/250/300EXC
17-23
250-500EXC-F
17-23
125/250/300XC
17-23
250-450XC-F
17-23
125-300XC-W
17-23
FC250-450
17-23
TC125/250
17-22
FE250-501
17-23
TE150-300
17-22
FX350/450
17-23
TX125/300
17-23
MC125
21-23
MC250
22-23
MC250F
21-23
MC350F
22-23
MC450F
21-23
EX250
22-23
EX250F
21-23
EX300
21-23
EX350F
21-23
EX450F
21-23
EC250
21-23
EC300
21-23
EC250F
21-23
EC350F
21-23