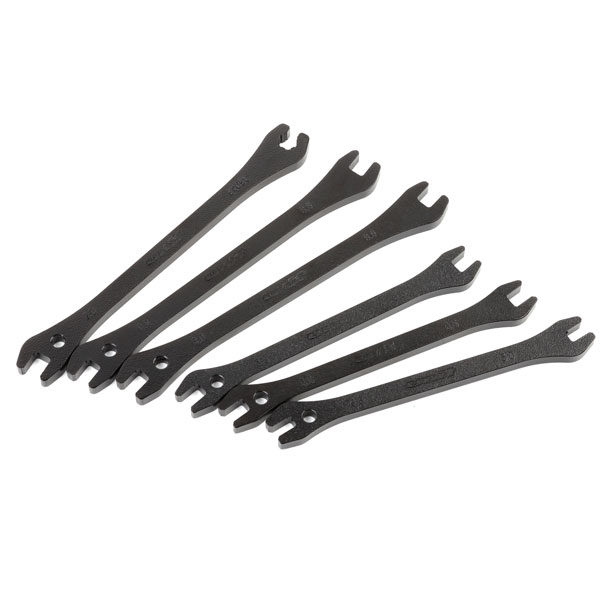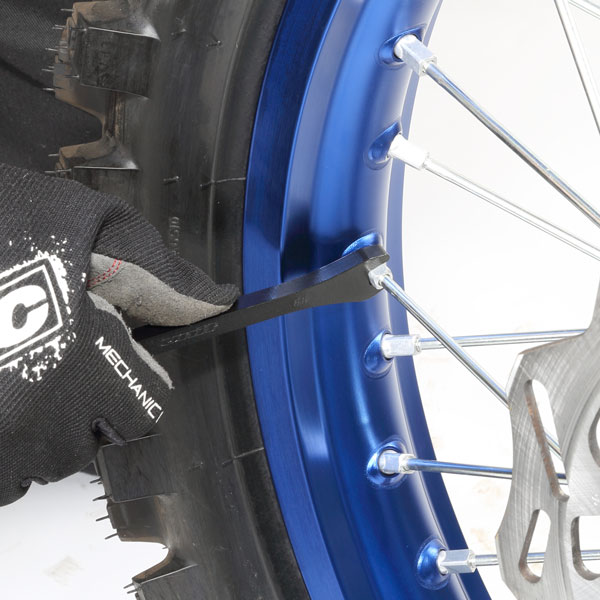 P432x SPOKE WRENCH
SPECIFICATIONS:
- It works for different nipple sizes with the front and rear wheels as well, designed to an easy-to-use length matched to the nipple.
- It cuts 6 mm thickness steel material with high precision wire cut, and it is hardly strip screw thread even at a high load.
- It fits also to Z WHEEL aluminum nipple and EXCEL spline nipple.
| | |
| --- | --- |
| | P4321 Spoke Wrench 4.4/5.0 L:130mm |
| | P4322 Spoke Wrench 5.6/5.8 L:130mm |
| | P4323 Spoke Wrench 5.6/6.0 L:130mm |
| | P4325 Spoke Wrench 6.0/6.6 L:150mm |
| | P4326 Spoke Wrench 6.2/6.6 L:150mm |
| | P4328 Spoke Wrench 7.0/EXCEL L:150mm |
Bike
Year
Part number
HONDA
CR85R/R2
03-07
UN-P4322
CR125R
02-07
UN-P4325
CR250R
02-07
UN-P4325
CRF150R/R2
07-22
UN-P4322
CRF250R
04-23
UN-P4325
CRF450R
02-23
UN-P4325
CRF250RX
19-23
UN-P4325
CRF450RX
17-22
UN-P4325
CRF450L
19-20
UN-P4325
CRF450RL
21-22
UN-P4325
CRF250X
04-17
UN-P4325
CRF450X
05-22
UN-P4325
CRF125F
14-23
UN-P4321
CRF250L
12-21
UN-P4322
CRF250L(S)
21
UN-P4322
CRF250M
12-19
UN-P4322
CRF250RALLY
17-21
UN-P4322
CRF250RALLY(S)
21
UN-P4322
CRF300L
21-22
UN-P4322
CRF300L RALLY
21-22
UN-P4322
CRF1000L AFRICA TWIN
16-19
UN-P4323
CRF1100L AFRICA TWIN
20-22
UN-P4323
YAMAHA
YZ65
18-22
UN-P4321
YZ85/LW
02-22
UN-P4322
YZ125
99-22
UN-P4326
YZ250
99-22
UN-P4326
YZ250F
01-22
UN-P4326
YZ450F
03-22
UN-P4326
YZ125X
17-22
UN-P4326
YZ250X
16-22
UN-P4326
YZ250FX
15-22
UN-P4326
YZ450FX
16-22
UN-P4326
WR250F
02-22
UN-P4326
WR450F
03-22
UN-P4326
TRICKER
04-18
UN-P4322
WR250R
07-20
UN-P4323
WR250X
07-17
UN-P4323
XT250X
06-17
UN-P4322
XTZ125
03-17
UN-P4321
KAWASAKI
KX85/2
01-23
UN-P4323
KX100
98-21
UN-P4323
KX112
23
UN-P4323
KX125
06-08
UN-P4325
KX250
05-08
UN-P4325
KX250F
04-18
UN-P4325
KX250
19-23
UN-P4325
KX250X
21-22
UN-P4325
KX450F
06-18
UN-P4325
KX450
19-23
UN-P4325
KX450X
21-23
UN-P4325
KLX450R
08-20
UN-P4325
KLX125
10-16
UN-P4323
KLX230
20-22
UN-P4323
KLX230 S
22
UN-P4323
KLX230R
20-23
UN-P4323
KLX230R S
23
UN-P4323
KLX250
98-20
UN-P4323
D-TRACKER125
10-16
UN-P4323
D-TRACKER/X 
98-16
UN-P4323
SUZUKI
RM85/L
04-21
UN-P4322
RMZ250
04-06
UN-P4325
07-22
UN-P4326
RMZ450
05-22
UN-P4326
RMX450Z
10-19
UN-P4326
DRZ400S
00-08
UN-P4326
DRZ400SM
05-08
UN-P4326
KTM
SX/SX-F/EXC/EXC-F/XC/XC-F/XC-W 85-530
09-23
UN-P4328
FREERIDE250F
18-20
UN-P4328
FREERIDE250R
14-17
UN-P4328
FREERIDE350
12-17
UN-P4328
FREERIDE E-XC
15-22
UN-P4328
690ENDURO
09-22
UN-P4328
HUSQVARNA
TC/FC/TX/FX 85-450
14-23
UN-P4328
TE/FE 250-501
14-23
UN-P4328
GASGAS
MC125
21-23
UN-P4328
MC250
22-23
UN-P4328
MC250F
21-23
UN-P4328
MC350F
22-23
UN-P4328
MC450F
21-23
UN-P4328
EX250
22-23
UN-P4328
EX300
21-23
UN-P4328
EX250F
21-23
UN-P4328
EX350F
21-23
UN-P4328
EX450F
21-23
UN-P4328
EC250
21-23
UN-P4328
EC300
21-23
UN-P4328
EC250F
21-23
UN-P4328
EC350F
21-23
UN-P4328
OTHER
Z-WHEEL AR1 WHEEL SET
-
UN-P4326
EXCEL SPLINE NIPPLE
-
UN-P4328